Better crop quality
An agricultural weather station measures the necessary data for disease and irrigation management. The use of a weather station ensures better crop quality. The RMA weather stations enable growers to make informed crop protection decisions based on facts.
Weather station
An RMA agro weather station consists of the data logger with power supply and a variable set of sensors, which are configured according to the need for data. For disease models, the temperature, relative humidity, leaf wetness and precipitation are sufficient. Crop evaporation also requires solar radiation, wind direction and speed.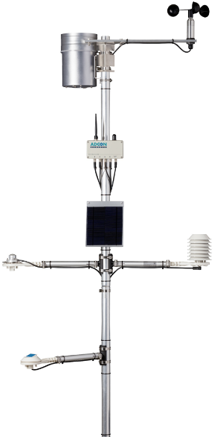 Datalogger temperature and humidity
The datalogger sends the readings from the sensors to the Cloud of RMA. The datalogger has its own power supply and works completely autonomously. The RMA weather stations work with 4G as a communication system. 4G can be used worldwide with a SIM card supplied by RMA. A small solar panel charges the battery of the datalogger.
Sensor technology
The applied sensors are all robust and developed from high-quality materials. This makes them last for many years. The sensor technology used guarantees precise data with high accuracy and low drift. This provides reliable data, both at the time of installation and in a few years' time.